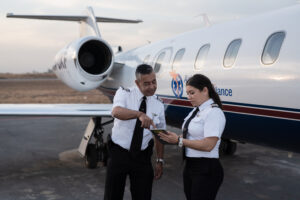 Welcome to a special feature of our 25th-anniversary celebrations at AirLink Ambulance. Today, we're thrilled to introduce you to Capitán Rogelio Muñoz, our esteemed Chief Pilot, a veteran in the field, and a visionary leader. He has been the backbone of our flight operations for years and embodies the excellence that we strive for at AirLink Ambulance. This interview offers a rare glimpse into the challenges and rewards of being a leader in the air ambulance industry. From his early fascination with planes to his life-saving missions, discover what fuels Capitán Muñoz's passion for aviation and patient care.
1. Can you share with us how you started your career in aviation?
I've wanted to be a pilot as far back as I can remember, possibly since I was 4 years old. My father was a military man and a paratrooper in the Mexican Air Force. He used to take me to some of his jumps, and that's probably where I fell in love with planes.
2. What inspired you to become a pilot and how did you pursue that dream?
When I would see planes flying up in the sky, I'd wonder: what's so magical up there and how big are they? I wanted to be up there. Every time I said I wanted to be a pilot, people told me I couldn't, that it wasn't for me. I ignored those voices and pursued my dream.
3. How has the aviation industry changed since you began your career?
It has evolved a lot. When I started my career, there were only two major aviation companies: Aeromexico and Mexicana.
4. How did you come to join AirLink and what attracted you to the company?
When I was in Toluca, I was invited to work for AirLink through Captain Jaime Madrid Sánchez, who was the Chief Pilot at AirLink. They had one plane, bought a second one, and invited me to fly. I spoke with the company and moved to Guadalajara.
5. As Chief Pilot, what are your key responsibilities and challenges?
My role as Chief Pilot is to maintain order between the company and the pilots, balancing the activities of both. I am responsible for protecting the pilots and the company, as well as training and guiding the pilots.
6. What is your leadership philosophy and how do you apply it to managing your team?
The leader is not an overseer; the leader is a leader who goes in front, while the overseer stays in the back. My philosophy is to have a global vision of where we are, where we're going, and what we want. I try to lead by example.
7. How do you ensure smooth communication and collaboration between pilots and other team members?
I always aim for harmony. Personnel who are not in harmony with my team simply cannot be part of it. As for communication, it's always direct.
8. Can you share an example of a time when you had to make a critical decision under pressure and what you learned from it?
In every mission, you have to make a critical decision. In the end, on an ambulance flight, the commander takes responsibility for everything. The doctor will be responsible for what he does with his patient, but the commander, the pilot in command, is responsible for what the doctor does and what the company does.
9. What are some of the technological advancements or innovations that excite you in aviation today?
I'm excited about navigation systems, which are very helpful. However, I don't agree with the idea that the plane should be completely autonomous. I like using modern navigation systems, but I also like to fly and pilot the plane.
10. What advice would you give to someone aspiring to become a pilot or take on a leadership role in aviation?
First, define what kind of pilot you want to be. All pilots are good, whether they're crop-dusters, fighter pilots, airline pilots, ambulance pilots, or cargo pilots. Define your objective and what you want to achieve.
11. What are some hobbies or interests you pursue outside of flying?
I like organizing air shows, doing acrobatics, and building things.
12. Can you share a book, movie, or quote that has inspired or guided you in your career?
When we had the opportunity to have television in my community, we watched a series called "Los Tigres Voladores de Papi Boyington." This series, which was about World War II, showed how a squadron organized its operations. It ignited a love for aviation that is still burning today.