Preparing an air ambulance with paramedic Omar Ortiz
Transporting patients via air ambulance comes with several challenges such as unexpected changes in patients' conditions, logistical issues, or even the weather. Thanks to the latest developments in medical equipment and experience of medical crew, air ambulances are prepared to handle these difficult situations and ensure safe repatriation flights. 
Fasten your seatbelt and board along with our paramedic Omar Ortiz while he prepares an air ambulance before a flight:
First things first
Once AirLink is assigned a mission and our operational team appoints the appropriate aircraft, the medical crew arrives at the airport in 2 hours to start preparations. After every mission, we leave the aircraft as well prepared as possible for the next flight. Good preparation and organization are key to a successful flight. In our warehouse, the medical equipment is organized and already stocked. We arrive, double-check, and are ready to go!
Distribute the weight
It doesn't matter how big or small an aircraft is, weight and balance distribution is something we always have to take into consideration. The equipment inside our air ambulance is similar to what you can find in an intensive care unit. Besides the standard inventory, we carry extra medical equipment according to the patient's needs and health conditions to ensure the best medical care possible. 

Sometimes we take an extra wheelchair, suitcases, or relatives of the patient on board. If a patient needs more oxygen tanks, the captain will be informed and have to take this into account. Everything is valued beforehand between the dispatch area, pilot, and Customer Service.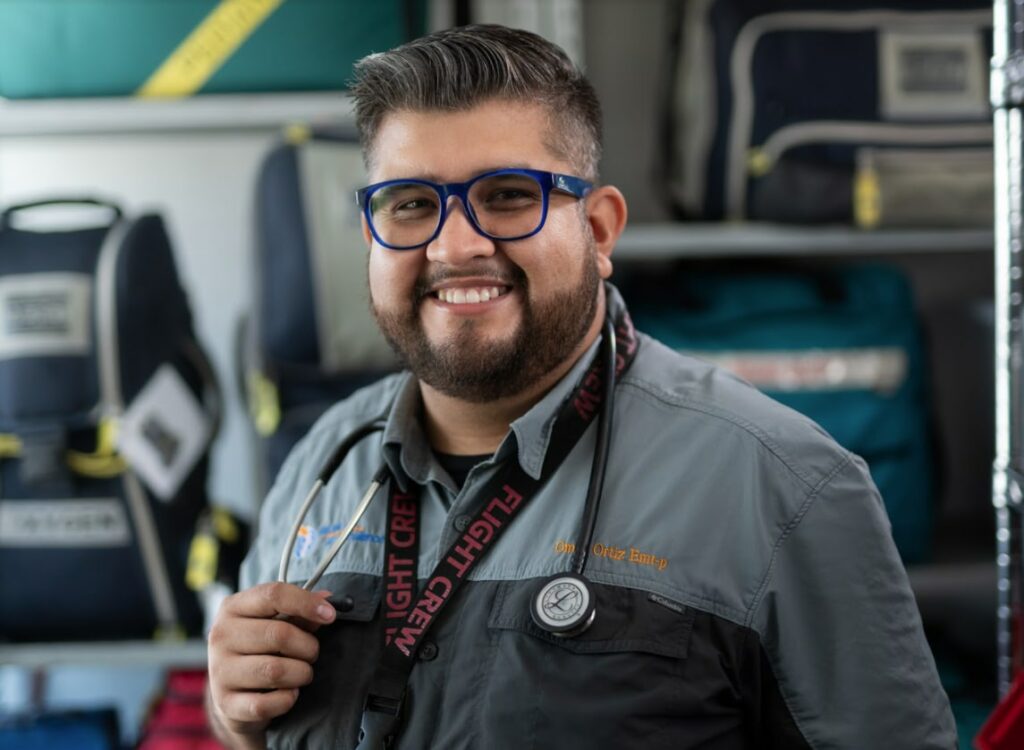 Maintenance strategy
Excellent inventory management is crucial in this industry. We keep track of everything we use during the transfer like medication, medical supplies, and disposables using a digital platform that alerts us automatically about stock, inventory, and expiration dates. 
We follow a solid maintenance strategy to ensure the quality of our medical equipment. This method performs preventive and corrective maintenance as well as procedures for inspection. During preventive maintenance, we can detect hidden problems and reduce failure rates. In the case of corrective maintenance, we leave the equipment in the hangar after a flight and send it directly over for review. During the frequent inspections, we secure the safe and correct use of medical devices for both patients and operators. Combining smooth organization, planning, and human resources, we make sure our equipment is in excellent condition.
Unexpected situations
Being organized and well prepared will help you prevent potential risks during the transfer. Therefore, it's important to know the route and layovers well to correctly calculate the amounts of oxygen and medicine to give the patient. Some key questions are: Can I obtain more oxygen during a layover? Do I have enough medication if, for example, the migration process will take longer than usual? 
In order to calculate how much medication we need to provide the patient, it is important to know the duration of both the flight and the ground transport and get an approximate duration of the whole mission. We always carry something extra in case something unexpected happens along the way or if all of a sudden we need to fly to an alternative airport.