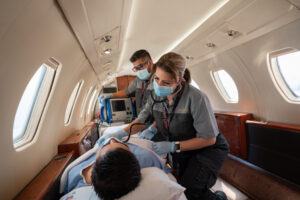 As part of our 25th-anniversary celebration, we're delighted to spotlight some of the extraordinary team members who have been instrumental in building the legacy of AirLink Ambulance. Today, we're honored to share an exclusive interview with Blanca García, our Medical Operations Director. Blanca's dedication and expertise have been pivotal in the success and evolution of our lifesaving missions over the years. Read on to delve into her unique experiences, insights, and the initiatives she has spearheaded that contribute to our ongoing journey.
1. Can you share how you first got involved in the air ambulance industry and what motivated you to join AirLink?
It was an invitation from a flight doctor. I was excited but also nervous because such a service always demands respect. Feeling the combination of medicine and aviation simply captivated me and drew me in, and I said… this is what I want to do for the rest of my life.
2. How have you seen AirLink evolve during your 19 years with the company, and what significant changes in air ambulance services have you witnessed?
The coolest change for me was becoming part of EURAMI, as it's a certification that pushes you to be among the best. Its standards require time, dedication, and effort, and it's not just about achieving them; it's about maintaining them. This has allowed us to get better every day, internationally, without losing the human quality we have as Mexicans.
3. Can you provide examples of innovative practices you've implemented within AirLink's medical protocols and standards?
Many of these changes in practices have been about making them more professional. One of them is digitizing our records, and another is making sure our standards and protocols are applicable to our services.
4. How do you ensure that the medical team is always prepared for any situation, given the unpredictability of emergency cases?
We prepare in two ways: one is staying medically up-to-date, and the other is through simulations, thanks to the SMS program. This way, we are prepared for any emergency in the aircraft, and both methods strengthen us for each mission.
5. Can you talk about a particular mission that has had a profound impact on you personally or professionally?
The missions that impact me the most are those that end sadly, for example, repatriations…
6. Looking back on your career at AirLink, what are you most proud of?
I'm most proud of how a small company turned into a high-quality, warm international company.
7. What advice would you give to those looking to pursue a career in medical operations within the air ambulance industry?
Have knowledge of medicine, aviation, administration, but above all, get experience in flights. That keeps you informed about what happens on each flight and the changes in operation because it's always changing.
8. Where do you see the air ambulance industry heading in the next decade, and how is AirLink adapting to ongoing technological advancements?
I believe this is part of a multidisciplinary team, which we have at AirLink. The communication we have within our departments and with others allows us to stay updated and prepared to be at the forefront