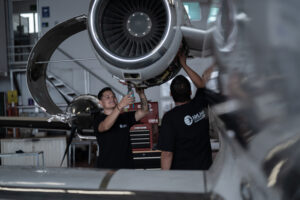 For 25 years, AirLink has been a name synonymous with rapid, reliable air ambulance services. As we continue to celebrate this significant milestone, we feel it's crucial to shine the spotlight on the unsung heroes behind our success—our mechanics team.
Introducing:
Jose Alcantara de Leon
Daniel Leos
Fernando Medina
Roman Palma
Héctor Abarca
These dedicated individuals are responsible for everything from routine aircraft inspections to complex system overhauls. Their meticulous attention to detail ensures that our aircraft are in optimal condition, adhering to the strictest safety standards.
From our medical facilities onboard to the latest navigation systems, their expertise covers a wide range of technical aspects that are vital to our operations. Their around-the-clock commitment enables us to be on call 24/7, ready to respond to any emergency.
Their hard work and dedication are integral to our long-standing reputation for excellence. As we continue to celebrate our 25th anniversary, we invite you to join us in expressing our gratitude to this extraordinary team. They're the ones who keep AirLink flying high, now and for many years to come.