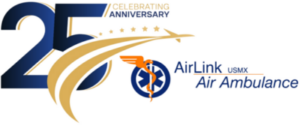 AirLink Air Ambulance is proud to mark a significant milestone: our 25th anniversary. For a quarter of a century, we have been at the forefront of emergency medical services, providing rapid and compassionate care to those in need.
Since our inception, our dedicated team of professionals has embarked on countless missions, saving lives and offering a lifeline to communities across regions. With a state-of-the-art fleet and cutting-edge medical equipment, we've become synonymous with trust and reliability.
As we reflect on our journey, we extend our heartfelt gratitude to our partners, clients, and the community for their unwavering support. We reaffirm our commitment to excellence and innovation, looking forward to many more years of serving with empathy and expertise.
Join us in celebrating this remarkable achievement and the countless lives touched by our services.